What is a trash chute?
A trash chute, another name for a rubbish chute, is a galvanized steel tube that can be lowered from one location to another. The National Fire Protection Agency (NFPA) regulates the design, installation and maintenance of piping systems. There are numerous types of chutes, but they all have the same basic design, except for where the waste goes in and comes out. One has a hinge on the side that allows you to open the door to the left like a car door; the other has a hinge on the bottom that acts like a mailbox opening with a handle that you pull down.
What is the purpose of a building chute?
Chute systems are used in mid-and high-rise structures to efficiently and hygienically gather and remove rubbish (and other large volumes of items) from the building. What goes down the chute determines the type of chute you'll have. Trash, recycling, and linen/laundry are more common things found in the home. Residential high rises and apartment complexes are more likely to have trash and recycling services, compared with hotels.
Where does the trash go?
Trash and recycling chutes often empty straight into compactors in high-rise buildings because of the compacting power. Conversely, a manual door that empties into a dumpster can be found on smaller mid-rise buildings with less space. The dumpster can then be rolled out for a once-weekly garbage collection.
What kinds of waste can I enter?
Because they utilize the chutes daily, residents are responsible for a large portion of the upkeep. At the entrances to the garbage chute, property and building managers frequently place signs stating what can and cannot be thrown down the trash chute (along with specific guidelines for getting rid of, or breaking down, certain goods).
Garbage chutes.

Plastic bags should be used to dispose of any household waste.
Chutes for recycling.

Crush your milk cartons, plastic milk jugs, soda cans, and anything else that can be made smaller before throwing them down.
Chutes for laundry.

A washing chute should only contain linens. Do not utilize it to get rid of things like shoes and hangers which don't belong there.
Benefits of a trash chute
An organization's well-being depends on a clean, healthy work environment. And a tidy workplace also helps to provide an appealing image to potential customers and stakeholders. Waste chutes allow you to maintain a trash disposal system that is both efficient and effective. Here are a few additional advantages: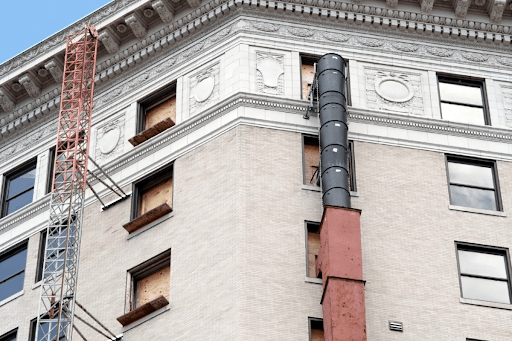 Quick and easy to use
Every floor has a trash chute entrance, so staff don't have to go to the trash dump to get rid of rubbish.
In addition to saving time, trash chutes also eliminate the risk of spills, garbage bags bursting under the weight of the waste, and the inconvenience to employees that the disposal process would otherwise cause. By using a trash chute, the operation is made even more convenient and comfortable.
Environmentally Friendly
Organizations are expected to take many safety precautions regarding garbage management to ensure no harm is done to the employees or the environment. When there isn't a proper chute in place, trash builds up until someone decides to move it across the building for disposal by themselves. As a result, pollution and deterioration of air quality are common environmental problems.
Hygiene Friendly
Employees in the corporate sector are becoming increasingly diligent when it comes to waste disposal. Tossing trash down a chute is easy because it's a hands-free, convenient process. Without a chute, having a trash heap waiting to be disposed of all the time poses a serious health risk. Airborne bacterial infections can be transmitted, and pests, vermin and mice will be drawn to your workplace, making things worse. These can also contribute to spreading many illnesses and diseases.
Having a trash chute built into the design of a building has many advantages, including convenience, ease of usage and cleanliness. Trash chutes are ideal for both residential and commercial buildings because of this.
For more information on trash chutes, visit reactiondistributing.com online or give us a call at 1-866-244-0009 today.