Table of Contents
It's critical for your business's operations to have the appropriate size and type of interior and outdoor garbage collection and transportation equipment. The proper equipment boosts your trash diversion program's effectiveness, protects worker safety, and decreases contamination. While your carrier may offer some of this equipment, others may need to be obtained by your facility. This article gives a summary of typical hauler-used collection equipment, as well as equipment for collecting and recycling waste inside your facility. The best equipment for your facility will vary depending on the kind of company, waste stream, available space and other variables.
Garbage Containers Used by Your Hauler
Your hauler often supplies collection containers for your waste diversion initiatives, such as frontload dumpsters, wheeled carts and roll-off containers. These containers are often utilized outside as the final point of collection and servicing. Different kinds of equipment are advised depending on the type of waste collected, the amount of cargo created, and the servicing capabilities of your hauler. If you're acquiring extra containers which will not be delivered by your carrier but will be maintained by them, be sure they're compatible with your hauler's equipment. To avoid contamination, inquire with your hauler about the possibility of utilizing various coloured lids so as to indicate which items are acceptable in the trash (or stickers or other markings labeling the material streams permitted in each container).
Dumpsters
Restaurants, apartment buildings and retail stores often employ dumpsters. These are usually maintained in a parking lot or fenced-in corral. Different sizes may be available from your hauler. Smaller 2-yard wheeled dumpsters may be held inside or outdoors until carried to the collection site. "Dock style" front load dumpsters enable objects to be loaded from a loading dock into the dumpster. Front load compactors, which smash material into a front load container, help reduce truck traffic in areas with limited space. In apartment buildings with chute systems, trash is usually dumped into front load compactors by front loading vehicles.
Carts
Carts can be used for many purposes, but not for collecting cardboard. Your transporter may provide wheeled carts, but you can also buy more. If you want to combine cart loads into a 2-yard dumpster, four 96-gallon carts are almost the same capacity. Carts can be manually tipped into dumpsters or hydraulically.
Because of their size and mobility, carts are commonly lined with plastic bags to gather debris. If you gather recyclables in plastic bags, remember to empty them and reuse them. Check with your hauler (and end location) to see whether they accept biodegradable bags. If not, the bag must be emptied and deposited in the garbage. A "Recycling Works" image on opening recyclables from plastic bags can be used as a sign or training tool in workplaces.
Open-Top Containers and Compactors
Businesses which create large amounts of garbage and recyclable material generally use roll-off services such as compactors and open-top containers. Roll-off trucks for these containers take up a lot of room. Haulers can provide compactors or open-top containers – or your company may acquire them. They're conveniently located near commercial composting, recycling and construction waste management facilities.
Open-top containers are widely used to gather large waste and recycling items like metal, asphalt, brick and concrete. They range in size from 10-yard to 40-yard. Open-top containers should be continuously monitored and secured to prevent illicit dumping.
Garbage Compactors for Specific Types of Waste
Self-contained compactors are often seen in big supermarkets, hospitals and apartment complexes. These are intended to gather wet objects such as garbage or food waste. They are often customized to meet the unique requirements of a business. When the receiver box and power unit are serviced, they're taken from the site, emptied and returned in the same shipment. Note that this implies you will be unable to use the compactor for a period of time.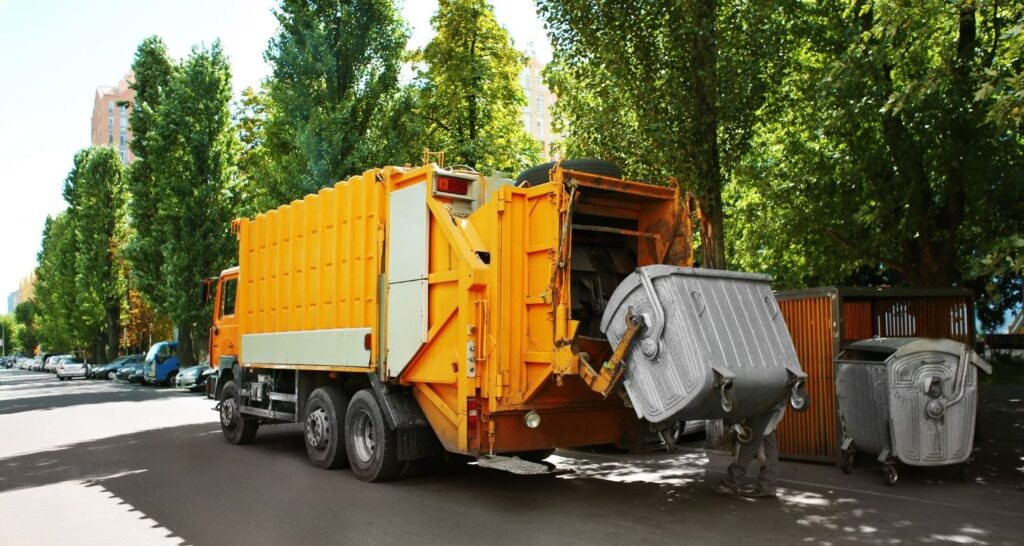 Compactors with breakaways are used for dry debris such as cardboard and other recyclables. Large stores, factories, and other industrial sites often use these compactors. The receiver box is exchanged or emptied and returned when the roll-off truck comes to service the compactor.
Dual-stream waste compactors include two chambers which allow the independent collection of garbage and recycling or food waste in the same device. These are often employed in areas with limited room for a compactor, but a high volume of debris from two distinct waste streams.
Reaction Distributing can satisfy all your company's garbage collection equipment needs. Visit us online or call us at (866) 244-0009 today.