What is the Purpose of a Trash Compactor?
A compactor is an excellent solution when a company consistently generates a significant volume of garbage. A compactor is a piece of machinery which helps businesses decrease waste by compressing it together. This technology is an excellent resource for waste management efficiency and helps a firm simplify its waste procedures.
Operation
A commercial trash compactor comprises a few critical components which efficiently compress the rubbish. Typically, a hydraulically driven metal ram is situated right over the garbage. Once the waste area is filled, the operator activates the ram by pushing a button near the compactor. The device will then be activated, and the compaction process will commence.
While each type of commercial trash compactor functions similarly, there are many kinds of commercial trash compactors with variable specifications regarding the sorts of materials that can be placed into them (and their capacity). All of this specific information can be found in your commercial compactor's owner's manual.
Compactor Types
How do you choose which compactor is the best fit for your business? There are three primary types of compactors in the commercial sector, thus the compactor you choose will be based on your area of work and compacting requirements. We've included a short description of each of the three primary compactors below:
Commercial Compactors
A commercial trash compactor, or "commercial compactor", is ideal for firms that regularly create enormous volumes of rubbish. Businesses in the service sector are particularly well-suited for these compactors, since they must deal with the excessive garbage daily. Certain firms may have a waste management strategy in place which allows them to maintain their compactor on-site. In contrast, others may contract with a commercial trash compactor rental service if their garbage requirements are variable.
Industrial Compactors
An industrial trash compactor is designed to handle substantially bigger garbage loads such as those seen in the construction or manufacturing industries. Compared to a commercial trash compactor, this huge compactor can handle greater loads plus a wider variety of materials. An industrial trash compactor is more robust and lasting, and it is a valuable tool if you need to quickly dispose of a significant volume of rubbish. Industrial compactor rental services are available for convenience and quick clean-up during construction and demolition operations.
Residential Compactors
These are not the same as trash compactor appliances commonly found in homes such as under-the-counter compactors, free-standing compactors or convertible compactors. On the contrary, a residential compactor is still a large-scale piece of equipment capable of bulk compaction, but it is employed domestically. This machinery can be considered a "household trash compactor" or an "apartment trash compactor" located in a residential area and accessible to residents.
Sizes
If you're looking for a commercial waste service that can assist you with your compactor requirements, Reaction Distributing has excellent commercial trash compactor options. Our team of experts will assist you in locating the ideal commercial compactor for your company. We'll work with you to develop a leasing plan which fits your budget, while also achieving your waste management objectives. 
Self-Contained Compactor
Reaction Distributing self-contained compactors are serviced regularly by a roll-off truck, ensuring an efficient waste management solution. This compactor can be tailored to meet your organization's unique requirements when it comes to size. It's particularly advantageous if you're looking to reduce your total trash production while maximizing storage space.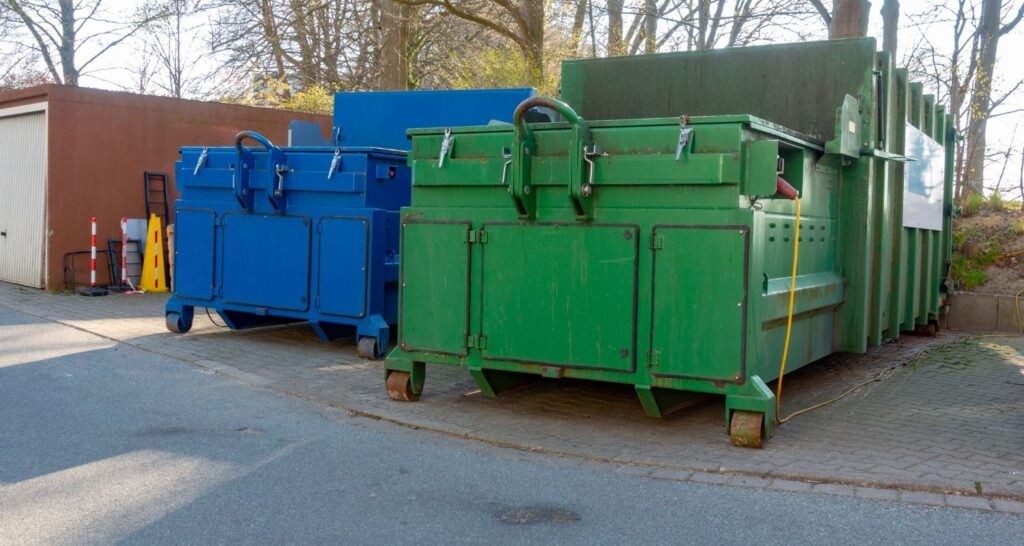 Vertical Compactor
A vertical compactor is an ideal solution if your business lacks the space required for a dumpster. Due to the equipment's unique shape, it can fit into tight spaces without sacrificing waste management capacity. 
Compactor for Apartments
If you're a property manager looking for a compactor that's available 24 hours a day, you might consider an apartment compactor from Reaction Distributing. This equipment has significant benefits for both your staff and residents.

Advantages Of Renting
Why should you choose Reaction Distributing when renting a commercial compactor? Numerous advantages exist for using our services, including the following:
No further costs

Budgetary control

Cost savings associated with transporting waste

Responsive customer service
Need to rent the best commercial compactors available? Visit reactiondistributing.com or call us at (866) 244-0009 today.