Roll-off containers have made significant advancements in their construction during the last year. They have never been stronger, more efficient or more specialized than now. The size of the equipment, its duration, and even the nature of the items being hauled all play a role in assisting consumers in determining their best option.
Which roll-off container size do you require?
The amount of debris hauled will ultimately vary according to the scope of your job. Knowing which roll-off size is optimal for each application is crucial when making a decision. Choosing the most appropriate size for a job location can help save both time and money.
10 yards: The smallest roll-off container, with a capacity of around 2 to 3 tons, is the most maneuverable. Operators can maneuver 10-yard roll-off containers into confined locations for simple home cleanouts, or the carting of concrete and dirt. These are also capable of handling small-scale operations involving heavy-duty material.

15 yards: These roll-off dumpsters, which also have a capacity of between 2 and 3 tons, are ideal for carrying away larger amounts of concrete or bulkier objects such as bathroom fixtures. These are ideal for removing old roof shingles, paving stones and other materials from repair projects. Additionally, these are well-suited for clearing out many forms of garbage, from plywood to fencing to heavier metal items.

20 yards: Most jobs require a 20- or 30-yard roll-off container, which can store approximately six pickup truckloads of debris. This size container has additional space for landscaping detritus such as rocks, sod and trees. This is also suitable for multi-level operations such as cleanouts and renovations which require the transportation of around 3 tons of material.

30 yards: For longer-term jobs involving heavier materials weighing between 3.5 and 5 tons, the 30-yard roll-off dumpster is an excellent investment because of its increased capacity and thicker wall structure. These containers can be used for various purposes including cleaning out furniture, repairs and landscaping makeovers.

40 yards: Contractors and property owners frequently want the largest roll-off containers, accommodating between 5 and 6 tons. This is the preferred equipment for the largest demolition, renovation and restoration projects.
How long will a roll-off container be required?
How long a customer requires a roll-off container is dependent on the work. Weather and time of year can affect how long the customer must maintain the container, since these variables might cause projects to be delayed. Bear in mind that cold-weather locations and wet seasons might affect the completion timeline of a job (hence affecting the length of time the roll-off will be required.)
What are you permitted to load into a roll-off container?
Density, on the other hand, is a different matter. A container's maximum weight is 10 tons, regardless of its size. Roll-off containers with a capacity of 10 to 20 yards are appropriate for heavy things such as soil, concrete and shingles. Mattresses and pallets, which have a large surface area but a low density, fit easily into a 40-yard container – leaving room for many more goods.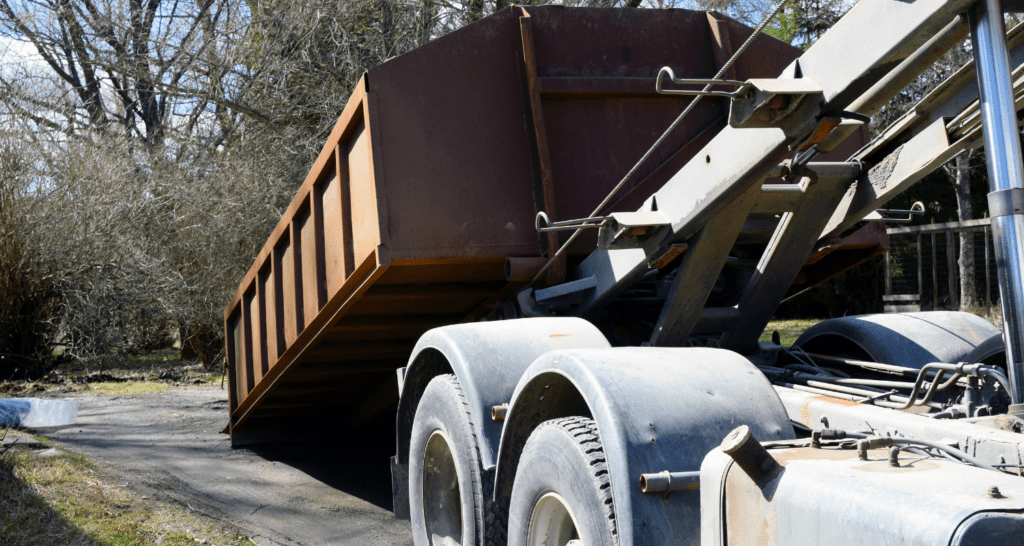 Additional considerations
Innovation:

Roll-off containers have advanced significantly in recent years. Rather than increasing the amount of steel for strength, some manufacturers employ higher tensile strength gauge steel to increase the payload capacity and strength of the container.

Assistance in times of disaster:

When storms and other catastrophes occur, roll-off container providers are prepared. Certain roll-off container companies provide their services to places regularly impacted by severe weather disasters to expedite rehabilitation.

Expertise:

Each task is distinct. It helps to have a waste collection and removal professional firm on hand to provide the most complete and cost-effective solutions. Customers should research local businesses and speak with a representative to determine their best solution.

Durability and safety:

It is critical for everyone who uses roll-off bins to remain safe.

Steel with a thick gauge:

A roll-off container's strength is determined by the strength of its floor and walls. Inside and out, look for properly welded inseams and rust-inhibiting primer.

Flexibility

: The proper roll-off container for the job goes a long way toward providing clients with the best value (and a safe experience). Businesses should look for a service which can provide customized solutions and adaptive options to meet their specific needs.
Your best selection of roll-off containers can be found at reactiondistributing.com. Visit us online or call our experts at (866) 244-0009 today.