Reaction Distributing Inc. is a Canadian based steel fabricator that specializes in custom designed, solid waste handling systems for the retail, commercial, institutional, industrial and municipal sectors.
Our approach to systems design and integration is simple. Firstly we listen to our clients concerns and issues with respect to their existing system(s). Secondly we analyze all of the costs associated with the present system to determine the maximum R.O.I. for the clients. Thirdly, we engineer a piece of equipment or an entire process system to enable the R.O.I. target to be achieved. Fourthly we fabricate the equipment, install it and provide on site training on each piece of equipment listed in the overall scope of work. Lastly we provide on going technical support during the warranty period and beyond to ensure that the financial targets outlined in point #2 are achieved and that the equipment provides many years of problem free service.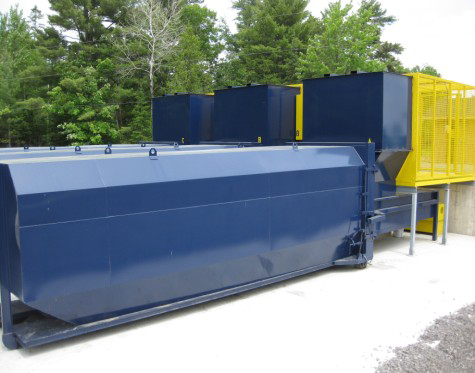 Three stream municipal transfer station
The R.D.I. "total systems" approach enables us to design systems that can accommodate the entire waste stream including recyclables such as plastics, glass, metals, fibers and organics.
For more information on how Reaction Distributing Inc. can assist you and your company with controlling your on going waste handling costs please con-tact one of our technical sales representatives.
WASTE HANDLING EQUIPMENT SAFETY
Reaction Distributing Inc. manufactures all of its equipment with safety as a key ingredient. Each baler and compactor meets ANSI, OSHA, UL and CSA safety guidelines and electrical requirements.
The PLC based designs offer state of the art performance while ensuring that the operators are protected 100% of the time against a personal injury.
Access to the interior of all R.D.I. balers and compactors is restricted and the operator is protected through the use of safety screens, safety gates, light curtains, positive acting inter-locks, dual safety circuits and hold to run operator interfaces.
At R.D.I. we realize that a safe design is an efficient design and an efficient design is a cost effective design.
THE R.D.I. ADVANTAGE
Fully integrated systems design approach.
In house design team with 80 years of combined industry experience.
State of the art systems components. Complete solid waste management and processing turnkey solutions.
After sales technical support.
Complete operator training programs available to ensure compliance with local governing authorities.
Prestart health and safety reviews available. 60,000 square feet of state of the art manufacturing space.
ANSI compliant designs.
OSHA compliant designs.
UL certified controls.
CSA certified controls.
Ongoing preventative maintenance programs.